Florida's only true canopy tour!
Two spectacular canyons and 4 lakes make our amazing zip lining adventures like no other!
Our tour through the Big Cliff Canyon offers a world famous 1,100 foot zip all the way across Lost Spring Lake. Where else can you Kayak in a canyon or ride through it on horseback? There are plenty of tours and adventures awaiting you by Air, Land and Water.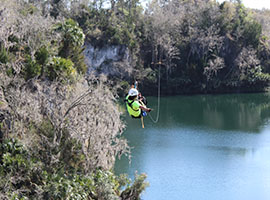 Big Cliff Canyon
9 ZIP LINES THROUGH BIG CLIFF CANYON
ZIPS UP TO 1,100 FT. LONG
2 SKY BRIDGES & RAPPEL
ALLOW ABOUT 2.5 TO 3 HOURS
FROM $119.99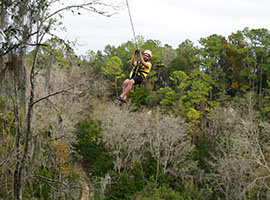 TREETOP EXPRESS
5 ZIP LINES THROUGH  Sky High CANYON
ZIPS UP TO 1,150'
2 SKY BRIDGES
ALLOW ABOUT 1.5 TO 2 HOURS
FROM $89.99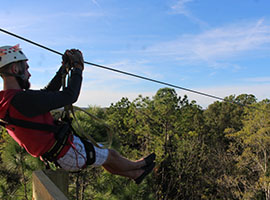 SKY HIGH TOUR
3 HIGH FLYING ZIPS THOUGH  Sky High CANYON
ZIPS UP TO 1,150' LONG
HEIGHTS UP TO 155'
ALLOW ABOUT 1 HOUR
FROM $65.99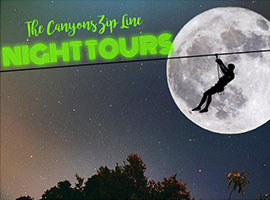 Full Moon (NIGHT) Zip Tours
ZIP AT NIGHT DURING THE FULL MOON
ON OUR TREETOP EXPRESS TOUR
ALLOW ABOUT 1.5 HOURS
$109.99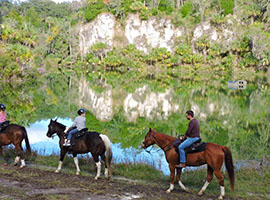 Horseback Tours
TOUR THROUGHOUT BOTH CANYONS
ON OUR 100 ACRE PROPERTY
ALLOW ABOUT 1.5 HOURS
Starting At $89.99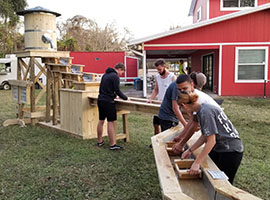 GEM MINING AT OUR HISTORIC ZUBER MINE
Just like miners in the old days, search for real Gems, Crystals, Fossils and more!
Bags start at just $6.00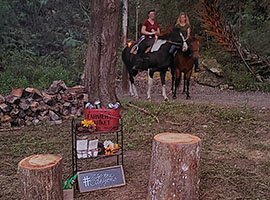 Horseback Ride Fireside
This is the ultimate horse encounter! This twilight/night tour on horseback is one of a kind!
$109.99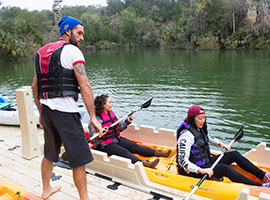 Kayak & Explore
KAYAK THROUGH THE BIG CLIFF CANYON
ON Lost Spring Lake AND EXPLORE WHAT
MAKES THIS PROPERTY UNIQUE
ALLOW 1.5 HOURS
$45.99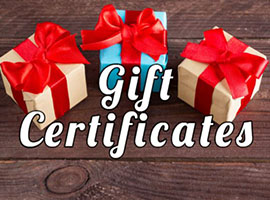 GIFT CERTIFICATES
CLICK HERE TO PURCHASE GIFT CERTIFICATES
What makes us different?
Is it The Cliffs that make The Canyons the most sensational adventure park in Florida? Or maybe it's the Zips at 155 feet high and 1,150 feet long. Or maybe it's the kayaking on spring fed lakes? Or maybe it's the mountain-like elevation changes on horseback, or soaking up the breathtaking scenery and wine on our historical tasting tours….or maybe it's the fact that none of this should exist in Florida, but it does, and it's ONLY HERE, at THE CANYONS ZIP LINE & ADVENTURE PARK!
What makes us memorable?
We are providing experiences that are more than just thrilling, but an immersive interaction with nature as it is meant to be experienced. We strive to break all the rules about what people expect to find in Florida. Plunging cliffs that set the view of large lakes sparkling at the bottom of a canyon and the dazzling memories created when visiting such a place, are some of the reasons why we are a nationally recognized and award-winning adventure park.